Data management: optimize the use of your data and bring Artificial Intelligence to your business

From data management to business intelligence, we provide you with the expertise and technologies to analyze your data and optimize your decision making.
Exploit your assets
Through our innovative approach and analytical capabilities, we help you optimize your data management. From governance to quality to data migration, we help you become Data-Driven.
Today with the explosion of the volume of data generated and collected and the constraints of security and confidentiality, it becomes essential for companies to know how to manage and exploit its data. we place all its skills in this area to advise and support you but also to develop applications, tools and optimized infrastructure allowing you to accelerate and improve decision-making, optimize internal processes, increase operating efficiency, detect a sales potential …
Our Data Factory tools allow you to accelerate data migration (data transformation, optimization of data qualification processes, support of data security and confidentiality constraints).
Our Data Management know-how
Within the IT Group of large companies such as Schneider Electric, SFR, we support our customers in the deployment of global solutions on an international multi-country / BU scale :
Data Migration
Data Governance
Data Integration
Data Quality & Cleansing
Data re-work & analysis
Solutions Architecture builder
Business Process Optimization
IT Process industrialization
Change Management
Project Management
Master data Management
Responsable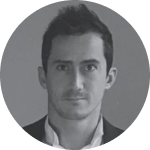 Jimmy Sourdin
Data Engineer & BI Business Unit Manager